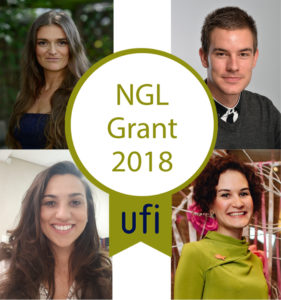 During the last month, one activity stood out to me while carrying out my role as our association's president: the day we selected the recipients of this year's Next Generation Leadership (NGL) Grant.
The UFI NGL Grant programme promotes next-generation leadership, by rewarding professionals who demonstrate clear initiative in driving change and innovation in their area of activity. We launched this programme in 2016 to help young leaders to connect, engage and exchange ideas with experienced professionals from the exhibition industry.
The NGL Grant programme is  supported by the industry as well. For the second time, Reed Exhibitions is the programme sponsor. The company already funded the initial programme in 2016.
The programme was met with immediate success. And this year, we received 70% more applications than in 2017. Candidates from all over the world presented themselves and their fresh new ideas, which they were eager to develop and implement through the programme. It was a huge challenge for the international jury to choose the winners. We had many tough calls to make as a group, and I wish to congratulate not only our winners, but also all the other applicants for their amazing achievements!
The winners of the NGL Grant will shortly start the programme, which involves mentoring as well as working closely with the UFI team. Their first workshop will be held in Verona (Italy) during the UFI Regional Conference in a few weeks' time. There, they will have the opportunity to get to know each other – and you will get the chance to meet them too.
After spending several months carrying out research, the winners will present their findings at the 85th UFI Annual Congress in St. Petersburg. Following this, they will take part in a six-month mentoring programme with C-level established leaders.
What I particularly enjoy about the NGL Grant is the chance to see just how interested and involved the next generation is in the exhibition industry. The NGL Grant represents a wonderful mix of fresh ideas and solid experience. We are living in a rapidly changing world – where artificial intelligence is no longer something that's only seen in sci-fi movies, but is already part of our everyday lives; where cyber security and data protection are key everyday issues for both companies and individuals alike; and where it's increasingly difficult to attract the attention of younger audiences. The world is changing, and if we want to keep up, we need to act quickly, adapt to a new audience and overcome potential challenges with innovative approaches. This is why the NGL Grant programme is really important in our industry – it enables young professionals with bright ideas to meet experienced professionals, so they can work together to overcome the global challenges facing our industry.
Corrado Peraboni, Ufi President