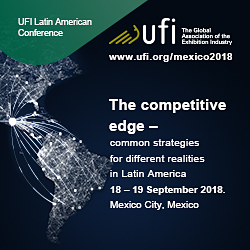 Ana Maria Arango, UFI Latam Regional Manager talks about the state of the exhibition industry in the Latin American region.
Interview by Nick Dugdale-Moore.
Ana Maria, 18 – 19 September, UFI will be organising its first LATAM Regional Conference in Mexico. Can you tell us something more about the region and the exhibition industry market share/revenue?
Latin America is a very diverse continent, not only in terms of the evolution of the exhibition industry, but in the diversity of their exhibition organisers. The market is heterogeneous, composed of several small sized exhibition organisers (approximately 70% of the market is represented by exhibition organisers that only own one show), medium sized companies (20% organise between two and five exhibitions) and larger companies ( only 10% of all exhibition organisers manage/coordinate more than five shows). The market is mostly dominated by local exhibition organisers although we have estimated the participation of approximately 50 multinational companies in LATAM. Some of the different types of the exhibition organisers you will likely find here are : industry associations who are leaders in their markets, e.g. Instituto Argentino del Envase in Argentina owner of Alimentek-Farmatek, Fedefruta in Chile organizer of Fruit Trade, but also Chambers of Commerce as active organizers, Cámara de Comercio, Agricultura e Industrias de Panama, as the organiser of some of the major shows in Panama (Expocomer, Expologistica, Expo Alimentos y Bebidas among others), Cámara de Comercio  de Costa Rica (Expo Franquicias) and Cámara de Comercio de Lima (Tecnosalud). The second group  consists of media companies, with exhibitions as one of their business segments (Grupo Editec in Chile, organiser of AcquaSur and Enersol, Grupo Digamma in Peru owner of Expominas or Latin Press with activities in Colombia, Brazil, Costa Rica and Mexico. The pure exhibition organisers come next, with only one line of business FCEM in Brazil, FISA in Chile, Hannover Fairs in Mexico, E.J. Krause Tarsus de Mexico, Reed, UBM, Informa etc. Finally we find exhibition organisers that own venues like Corferias in Colombia, Espacio Riesco in Chile, La Rural in Argentina, GL events in Brazil among others.
How do you see the LATAM exhibition industry market development?
I see a very diverse market. There is a boom in some parts of the region with new exhibition organizers taking their part in the market. New convention or exhibition centers are being built or have just been launched (San Jose de Costa Rica, Quito, Cordoba, Bogota, Panama, Buenos Aires).  There are also countries  recovering from economic crisis that are showing mild signs of revival, as is the case of Brazil and Argentina. We also find more stable markets as the case of Chile, Mexico, Colombia, El Salvador and Peru,  where the exhibition activity moves along the stable economic development.
We keep on seeing this year multinational companies entering or expanding their portfolios in basically 4 markets: Brazil (UBM´s acquisition of Live Healthcare ), Mexico (UBM´s acquisition of ExpoMed), Chile (GL Events´ acquisition of FISA) and Colombia (Messe Cologne partnering with Corferias in a recently purchased exhibition Mueble y Madera).
It's an exciting time to be involved in the exhibition industry and there is work to do. We need to become more professional  and make sure that as a region, we are accepted by providing shows up to the international standard.  UFI association, globally recognised by the exhibition industry leaders, is here to help!
For the UFI Latin American Conference programme and registration, please go to: www.ufi.com/mexico2018.
for the UFI's exhibition industry information – Surveys and Studies, please go to http://www.ufi.org/industry-resources/surveys-and-studies/