Dear colleagues and friends,
This is my first column as UFI President and it's a real honour to have the opportunity to write to you all here.
I hope you have enjoyed the UFI Congress 'Together Again' – a fitting title for this first physical UFI Congress for two years! The UFI team has overcome all sorts of challenges to make it happen. But of course, this is what our industry is very good at! I was disappointed not to be in Rotterdam with you all, and I hope it won't be long before we can all travel freely again.
First of all, I want to thank two special persons that I would have loved to see face-to-face: Anbu Varathan and Mary Larkin. Anbu's work over the past year has been inspiring, including the Global Policy Leadership Series that is expanding UFI's advocacy work. Mary has been an important role model for me, and I love the passion she puts into everything she does. I am privileged to follow such remarkable leaders.
The profiles of Mary and Anbu reveal one of UFI's best features – our incredible diversity! But it hasn't always been so. Looking back to the first UFI Congress I ever attended was in Hong Kong way back in the year 2000. The official languages then were French and German. There were only a handful of women at the Congress, most of them interpreters. Asia was still an emerging market.
Fast forward to today, and look at the changes! UFI's common language is now the global language of business, English. UFI membership now spans some 83 countries and regions, and over 44% of the members are from Asia-Pacific. And women are widely represented in the industry, and in our association. In fact, currently 25% of the Board of Directors in UFI are women. As a global association, we need full participation by talented, committed women, and men from different races, culture and background, to drive our industry forward. I promise to keep building on this solid foundation of diversity.
COVID-19 has absorbed much of our attention lately. Still, our single biggest global challenge is not the pandemic but climate change. All of us must be part of the solution.  The big picture is this: we need to reduce greenhouse gas emissions by 50% by 2030, and get emissions to net zero by 2050. It can be done, but not by chanting slogans and producing glossy brochures. We need concrete actions.
UFI recently joined with other organisations to create the Net Zero Carbon Events Initiative. Part of this involved creating the 'Net Zero Pledge for the Events Industry'. Everyone here today, everyone in our industry, please sign the pledge! Click here
For our industry, the global pandemic has been incredibly disruptive and economically extremely challenging. This is why UFI is so important. Together, we can connect, collaborate, influence, and innovate. And UFI makes us far more powerful than we could ever be on our own.
Together, we are also gaining a clearer picture of what the future might look like. In the last two years, we have seen a proliferation of virtual and online events as the industry has tapped into technology. But no one wants virtual events to be the new normal. The benefits of face-to-face events are just too important. I believe UFI can and must play its part in shaping this new order of our industry. But to make it happen, we must collaborate on the right projects and ensure they are benefiting the majority in our industry. We are all in this together.
Finally, I would like to express my appreciation to our UFI Managing Director Kai and the UFI team for the amazing work they have done on behalf of members over the year. And I'd also like to give a very warm welcome to a well-known and respected industry figure Michael Duck into the Trio as he steps into the role of Incoming President.
In taking up the position of UFI President, I am following a long line of distinguished forebears. I am humble, but I am also proud of being the first Asian woman in this role.
And I am looking forward immensely to new opportunities to serve the industry I love dearly. Thank you.
Best regards,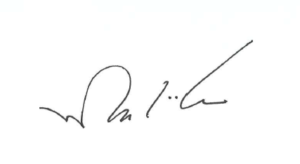 Monica Lee-Müller, UFI President