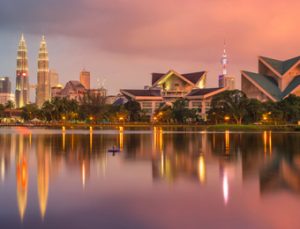 The upcoming UFI Asia-Pacific Conference (formerly known as the UFI Open Seminar in Asia) takes place on March1-2 immediately after the UFI Educational Forum on HR Management (February 27-28).
I spoke with Mark Cochrane, UFI's Regional Manager for Asia-Pacific and asked him to share what he's interested in hearing about during a few of the upcoming sessions at the upcoming Conference in Kuala Lumpur:
Twitter: #ufikl
Regional confernce highlights
Keynote Presentation on Malaysia: Overviews of host countries are always one of the most popular sessions with our delegates. Given that Malaysia recently published a new economic blueprint, our opening session will, no doubt, be a popular one. It has a number of high growth industries, which will translate into interesting launch opportunities for organizers.
Explori, UFI's research partner, released an "Exhibitor Insights Study" at the 2017 UFI Global Congress. The study revealed one of the top reasons for high exhibitor net promoter scores was exhibitor education. In addition, one of UFI's continuing focuses is on education and training. So I think that Ali Lee's session on exhibitor training and effective booth management strategies will shine a light on much neglected area – attendee engagement.
Geo-Cloning is not a new idea, but is very hard to do it well. UBM's portfolio of jewelry shows is probably one of geo-cloning's biggest success stories. UBM has strategically expanded its brand from Hong Kong to Tokyo to Turkey to St. Petersburg and Singapore. Wolfram Diener Senior VP at UBM Asia will discuss their geo-cloning journey and share some tips and pitfalls to watch out for.
Also Matt Pearce's session will be an exciting one! Matt went from expanding and managing a portfolio of B2B exhibitions for Diversified Communications across Asia – to owning and operating a portfolio of leading B2C (consumer) shows in Australia. B2C shows are a growing and profitable niche in the exhibition market, but they are not without their challenges. Matt will takes us through all the exciting opportunities and challenges in the B2C segment.
Venue construction boom
There has been a venue construction boom in Asia over the last decade. In China alone, there are now more than 100 purpose-built exhibition venues. Most markets in Southeast Asia have also significantly increased their capacity. In fact, competition to attract and host events is at an all-time high. Our venue panel session will discuss how venues around the region are managing this heightened competition. They will discuss alternative revenue sources – beyond hall rental. Examples include: joint ventures, organizing their own events, offering venue management and consulting services to name a few.
Powerful networking
As our conversation closed, Mark cited what he sees as one of the most compelling reasons to attend the UFI's Asia Conference, "The UFI Asia-Pacific Conference always has the highest concentration of leaders of the Asian exhibition industry in one place, at the same time. It is truly a unique, once a year opportunity to network with our industry's leaders."
To register for the UFI Asia-Pacific Conference, please click here.