By Athan Siah, Co-Editor of Globex published by AMR International
It's great to see the continuing return of live in-person events. The recent success of the UFI European Conference was a fine example of just how important it is to bring people together.
Events are certainly picking up. AMR's Globex analysis indicates that 2022 should still yield global growth of c. 40% on 2021 – this applies across most countries.
However, the road to recovery will continue to slow. As we look ahead, the global exhibition industry may only recover to pre-COVID activity and revenue levels by early 2024.
In this blog we provide an update on AMR's revised forecasts:
Revising global forecasts
For AMR's Globex 2021 report, we spoke to dozens of industry experts and forecasted that the global exhibition market in 2022 would be 23% smaller than its pre-COVID size.
Changes in prevailing market conditions since the beginning of 2022 have given us reason to unfortunately downgrade this forecast: we have now corrected this forecast downward to 28% largely due to the lack of exhibition activity in China, Hong Kong, and Russia.
Furthermore, broader macroeconomic uncertainty will also have a negative impact on exhibition markets as many markets face rising inflation and depressed economic growth.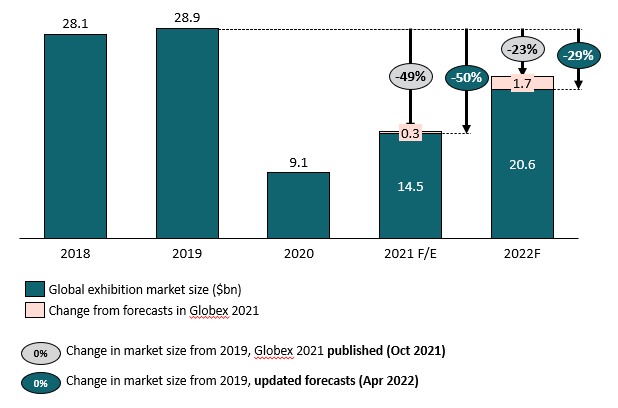 Lockdowns in China
China's exhibition market, the second largest in the world, is being severely impacted by the recent spike in COVID cases and lockdowns in Shanghai and Shenzhen, among other cities. This also has a significant impact on Hong Kong, which depends heavily on Chinese exhibitors attending its export-based shows.
Continued conflict in Ukraine
Russia's exhibition market is being negatively impacted by the war in Ukraine, particularly among the portfolios of international organisers. Many organisers have proactively withdrawn from the country, handing over shows to local management to be run independent of the global brands, until at least when the war is over. Eastern European exhibition markets, such as Poland, are also being affected as exhibition venues are being repurposed as accommodation for Ukrainian refugees.
Where to from here?
The exhibition market has historically been a cyclical one, and the impacts of recent world events is no exception. However, one thing we do know is that the global exhibitions industry is resilient. Already a number of organisers are embracing new strategies and starting a journey of transformation.
We at AMR International believe that forecasting is fundamentally a dynamic exercise. Particularly amidst today's ever-changing market conditions, we will try our best to continue providing some clarity on the trajectory of global exhibition markets.
For more information, visit amrinternational.com/globex2021 or contact Athan Siah at athan.siah@amrinternational.com.