In January I went on a road trip to the Northern California Redwoods (USA) located near the Pacific Ocean coast, about a five-hour drive north of San Francisco. For those of you who may be unfamiliar, the Redwoods are some of the oldest living beings on the planet ranging anywhere from 800-1200 years or even more, soaring on average 320 feet or 100 meters tall. Some of the taller trees recorded are in excess of 420 feet, 128 meters.
Why a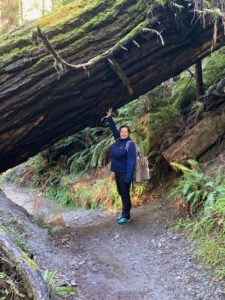 m I talking about the California Redwoods? Here's why: They have stories to tell if we take the time to listen. Stories of resilience, of fortitude and of plain old fashioned stubbornness. Stories of survival through centuries of fires, droughts, earthquakes, floods, snow and disease. Stories of providing a protective canopy above for an entire ecosystem below of insects, plants and animals dependent on the protection provided.
The damage and survival are quite visable – lightning strikes and burned sections of bark stories tall, limbs torn off below laying haphazardly below. Yet they persevere and continue to thrive. Their resilience is clear for everyone to see.
This pandemic has been a raging, year-long worldwide fire which is finally beginning to be extinguished with vaccine dissemination and other mitigating factors: testing, physical distancing, hand washing and mask wearing – and here in the US: a federal government that sees science as the pathway out. COVID-19 has had a decimating effect on the exhibition and face-to-face business events ecosystem, along with the industry ecosystems that our shows serve.
Like the Redwoods, our industry will come out of this a bit banged up, a bit scarred along with the knowledge that our roots are deep – helping us survive and someday soon, thrive once again.
Link: https://www.visitcalifornia.com/uk/feature/places-see-big-trees