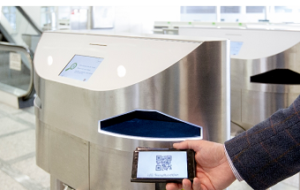 Digital transformation is on everyone's lips. With the constantly increasing relevance of online and social media, companies must have the courage to take a step forward. But what does that mean in concrete terms for a trade fair company? Which measures can be taken today to sensibly digitalize a trade fair?
Promoting trade fairs effectively with digital media
As a rule, one can say that a trade fair visitor's entire customer journey from the first contact to the final visit to the event can be accompanied and improved by digitalization. Advertising prior to the trade fair is certainly the most important measure in order to draw the attention of existing customers and potential interested parties to an upcoming event. Here, social media should play a fundamental role in trade fair communication. Via media such as Facebook, Xing and co., not only can advertisements be targeted at a desired target group through the use of special filters without scatter loss, a forum can also be created for the exchange of information about trends and innovations. Well-designed visual and textual postings can win over the target groups for an event and network them in the long term. Before a trade fair, groups such as trade fairs, end users and exhibitors, but also multipliers such as bloggers, should be actively targeted by means of a social media campaign. In conjunction with other advertising media such as digital displays in urban areas, it ought to be possible to provide potential trade fair visitors with comprehensive information prior to the event.
Conversion and registration deliver valuable data
If one succeeds in converting an interested party, they will register to visit the trade fair. Measures such as social login facilitate the registration process for the visitor significantly. The data won, which should definitely be supplemented with optional structural questions during registration, forms an important basis for the trade fair organizer. The demographic information won in this way is a valuable basis for further communication measures such as mailings, as a good data pool should also result in personalized targeting. In addition, the social media login can be supplemented with a social marketing tool: Visitors who have logged in via the social login can now post notice of their planned visit in selected social networks when purchasing the ticket and can also see which contacts in their social network are also planning to go to the trade fair. As a general rule, all data should flow into a central CRM system in order to be able to work with them in a meaningful way. Matchmaking after registration then promotes the networking of visitors and exhibitors as well as between the visitors themselves, and increases the involvement right from the start. Here, the advantage of well-designed digital processes become apparent: the goal of the trade fair – to bring supply and demand together – will already be optimized during registration though the use of data.
Nowadays, the subsequent ticket purchase in the online shop should be completely digitalized and optimized for all end equipment. Ideally, this enables the visitor to transfer a ticket to the wallet of their smartphone and thus access the trade fair without any paper documents. Access to the exhibition grounds is also digital, either by scanning with a mobile device or at the turnstile.
Trade fair set-up and infrastructure
Before the trade fair opens its gates, digitalized processes help to save time and nerves, for example through optimized planning of trucks on the grounds during the set-up phase. Trade fair companies also need to cushion the burden on infrastructure (for example, the flow of traffic to the car parks) using digital solutions.
The digitalized trade fair visit
In the meantime, an increasing number of trade fairs offer their own apps, providing visitors and exhibitors with significant value-added. Generally, these apps provide information including all relevant services such as an exhibitor search function, matchmaking, events and congresses on offer as well as the administration of appointments. It is also possible to integrate lead tracking solution to allow contacts to be stored and managed quickly and simply without exchanging business cards.
All data such as information on registration and access are gathered in the central CRM system. As it has already been prepared as smart data, this data is very valuable for analyses. Who are the visitors and how did they become aware of us? Who comes when and how long do they remain at the trade fair? Are they interrelationships between sociodemographic variables and interests at the trade fair?
After the trade fair is before the trade fair
The follow-up work after a trade fair is also optimized to a large extent by digitalization. The structure data won through the registration process provides the exhibitors with additional important information with which to target the leads generated by means of personalized mailings. In general, mailings should be used after the trade fair as a follow-up measure to increase the value-added of the trade fair visit.
Written by Ibrahim Mazari, PR Manager at dimedis GmbH