What is hot and what has changed?
The impact of COVID-19 on the marketing of exhibitions
Trends are always important, and interesting to watch. And it is all the more relevant in these first weeks and months of the year where we have a chance to look at the post-covid world of "new normal". So what do we see more in the field of marketing of exhibitions? What do we see less? Where are reliable constants and structural breaks? And what is new anyway? In other words, has COVID-19 changed the marketing of exhibitions?
Driven by these questions, the UFI Marketing Working Group conducted a survey among UFI members. The goal was to collect empirical evidence of whether there are relevant changes in the marketing of exhibitions comparing the pre- and the post-covid worlds.
The new normal
Our findings (cf. figure 1) indicate a major shift of importance when it comes to the marketing of hybrid and digital events. Due to the huge wave of cancellation of physical events as well as travel restrictions, the marketing of hybrid and digital events has become much more important these days. Both topics are likely to stay highly important since travel restrictions will presumably continue for some time. Moreover, digital events and the digital part of hybrid events have proven to attract new audiences potentially converting to future live customers (cf. Global Recovery Insights 2021). Recent acquisitions of digital event specialists by leading exhibition organizers and other investments in organizers' digital capacity underscore this digital / hybrid trend. It is expected to be a longer-term trend strengthening the event brands.
Interestingly, the marketing of confex formats gained in importance, too, despite these events being physical. This is possibly due to their perceived greater value for exhibitors and visitors, helping to sell our products to currently rather reluctant customers. Another reason may be their often smaller size when compared to large exhibitions, making their organization during the pandemic easier as well as more suitable to more regional audiences that are more likely to attend.
Not surprisingly, climate protection and sustainability gained also significantly in importance being a worldwide mega trend affecting every industry including ours. The Net Zero Carbon Events initiative signed by hundreds of businesses from our industry strongly supports this finding.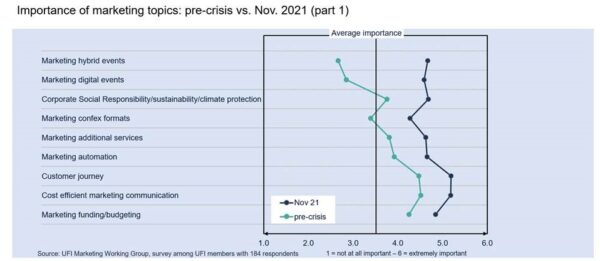 Reliable constants
In the end, marketing of exhibitions comes to winning and retaining customers. Consequently, acquiring exhibitors and visitors has been the most important marketing topic pre-crisis and still is, presenting a reliable constant in the new normal (cf. figure 2).
Yet, the marketing itself is likely to be different. Firstly, new customers may be more and more acquired through digital event extensions before, during and after exhibitions as mentioned above. Secondly, the trust of existing customers needs to be recovered, despite the fact that there are often longtime relationships. Participants have become more selective when choosing which exhibitions to join. In addition, they were forced to establish new ways of interacting with their clients during COVID. Thus, they must be reconvinced that these ways cannot compete with exhibitions when it comes to number and quality of interactions, worldwide media reach, and the experience of personal meetings at the industry's campfire. Thirdly, the marketing will likely be more automated and cost efficient since COVID severely impacted most organizers and venue operators. Fourthly, our research shows that about half of the exhibition marketeers focus their activities on different geographical regions compared to pre-COVID. In fact, they frequently focus their marketing more on their home regions. This is due to the fact that more closely located customers are currently more likely to attend given the ongoing travel restrictions. It is still unclear how this will change when restrictions are lowered.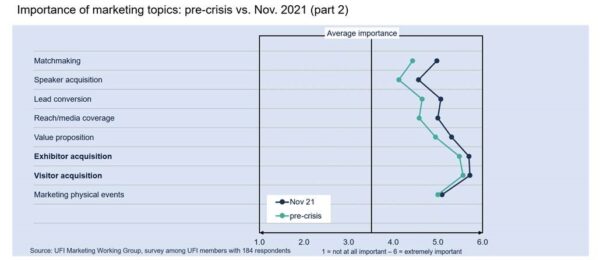 Remaining relevant through change
Initially we asked whether COVID has changed the marketing of exhibitions. The answer is: It certainly has. Some of the changes are likely to be permanent like the increased importance of marketing digital and hybrid events or event extensions. Other changes may change again when the pandemic becomes endemic like the current focus of many marketeers on their home regions.
And it is a good thing that marketing has changed. In fact, it is vital for our industry as our customers and their behavior have changed throughout the pandemic as well. The changes in marketing show that we are able to adapt as an industry and, thus, stay relevant for our customers. Putting them at the center of our efforts remains the unchanged ultimate priority.
Download the full report here.
Authors: Dr. Holger Feist – Chair of UFI Marketing Working Group – Chief Strategy Officer and Chief Spokesman at Messe Muenchen, and Johannes Fuchs – Head of Market Research at Messe Munich