Forget the Academy Awards®, the Palme d'Or, or BAFTA… it's time for the UFI Awards! These are amongst the most prestigious awards given out in the global exhibition industry, rewarding innovative ideas and execution. After the last couple of Pandemic years, isn't it time to celebrate your teams and recognize their hard work?
In addition to accolades from colleagues around the world, each category winner receives the Award in person as well as a chance to present their winning project at the UFI Global Congress in Muscat, Oman this November 14-17.
The Awards and their themes for 2022 are:
− Digital Innovation – how does your digital innovation support physical events?
− Industry Partners – success stories – alliances shaping the future of the exhibition industry
− Marketing – best marketing strategy in a changing exhibition industry
− Operations & Services – how to get back in operations with onsite services & providers in uncertain times
− Sustainable Development – best carbon emissions reduction initiative
Deadline to apply is Monday, March 21. Highlight your teams and their successes.
To apply: https://www.ufi.org/awards/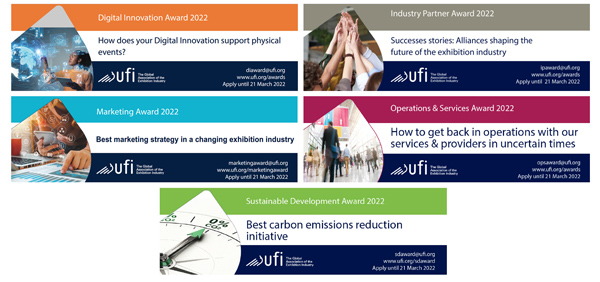 Download our flyer here.