"Best carbon emissions reduction initiative" is the theme of this year's UFI Sustainable Development award competition and the jury selected Jaarbeurs (Utrecht, the Netherlands) as the winner. This recognition highlights their innovative approach to food and food waste by changing the assortment to mostly vegetarian choices and by using new innovative partnerships in the complete food chain.
Marloes van den Berg, Chief Sustainability Officer at Jaarbeurs declared, "Winning the UFI Sustainability Award 2022 is a great honour and a great recognition for my team and our partners here at Jaarbeurs. Step by step we are realizing our ambition in becoming the most sustainable venue in Europe. With this application we hope to inspire others in the industry by setting a standard that other venues and organizers can follow. Together we can deal with our responsibility towards next generations and make a huge step towards zero emissions."
The Chair of the UFI Sustainable Development Working Group, Stephanie Mathas, commented, "Congratulations to Jaarbeurs for their initiative focused on the important topic of food. We also applaud the two other finalists: Ifema Madrid for their strong energy efficiency programme and Fiera Milano and Salone del Mobile in partnership with Rete Clima, for their measurement of event GHG emissions."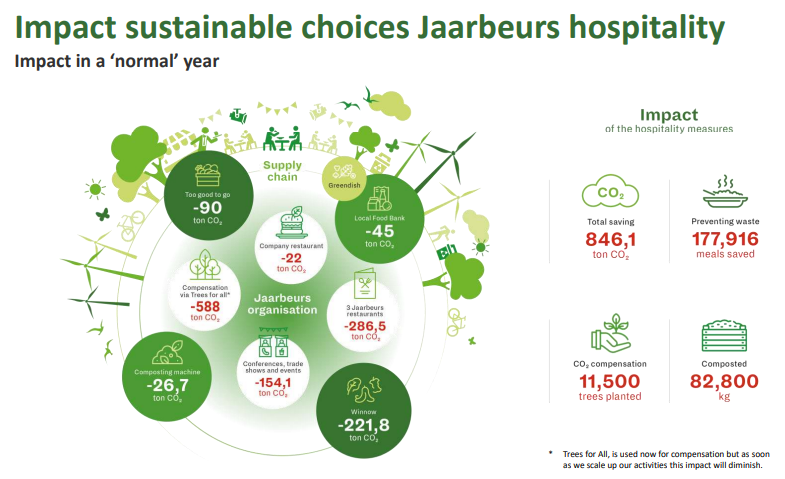 The winning team is invited to present their winning project at the UFI Global Congress this November.
To learn more about the UFI Awards, this entry, and other best practices identified throughout the competition, please visit: www.ufi.org/sdaward.