How can exhibition organizers and companies use the data from the Global Exhibition Barometer? The bi-annual flagship research study by UFI, the Global Association of the Exhibition Industry, provides insights and key metrics on recovery rates, actual revenues and growth projections that you can use to benchmark to your show to your peers and colleagues. The best part: It's free to UFI members and non-members.
In addition to a global perspective, the UFI Barometer provides a deeper dive into the data for North America. I outlined four key takeaways in this blog, UFI BAROMETER DEEP DIVE: U.S. IS BOUNCING BACK FASTER THAN GLOBAL INDUSTRY OVERALL, which was published on TSNN in August. There was so much great intel in this report, I wanted to share four more key takeaways: 
The good news: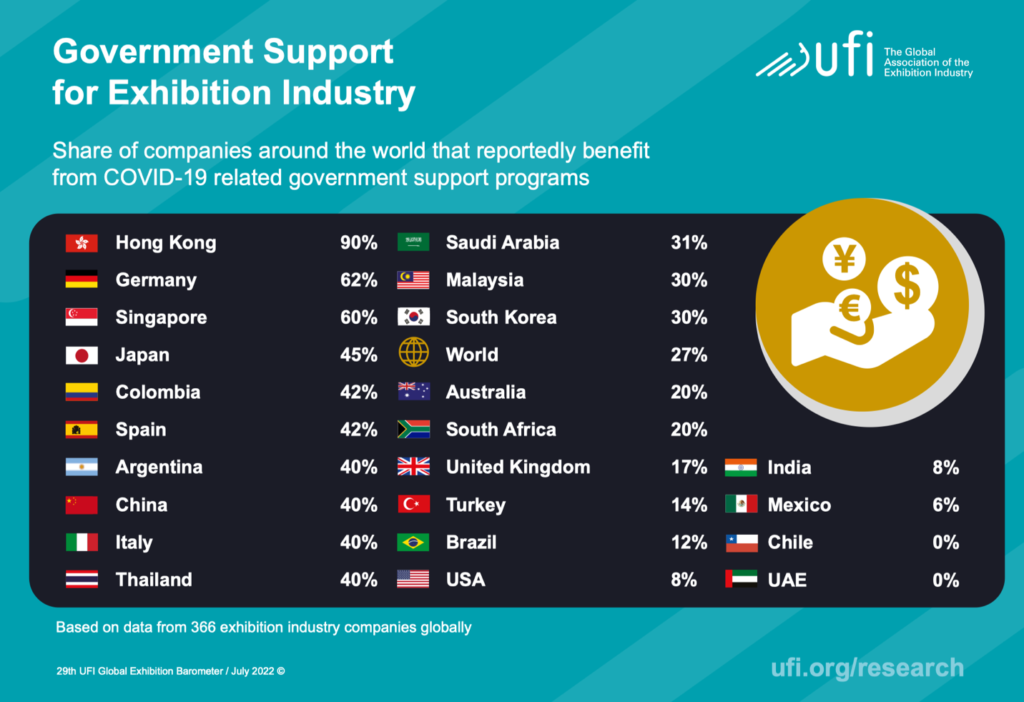 Survival without subsidies. Only 8% of U.S. exhibition organizations received Covid-19 related government support. Overall globally, 27% of exhibition companies received public financial support during the pandemic.
Digital expansion. More than half (63%) of North American exhibition organizations added digital products and services (like apps, digital advertising and digital signage) around their existing events. Even more telling: 44% of North American exhibition organizations launched digital products and services not related directly to existing events. Here's a sampling of digital offerings by the industry's leading public companies:
The biggest challenges
International attendees and exhibitors. In H1 2022, travel restrictions and policies impacted international exhibitions, with 22% of North American exhibition companies reporting their cities were not open to international events. Keep in mind: The U.S. didn't drop Covid-19 testing for international visitors until June 13 — a little over one month ago. After intense lobbying and advocacy by the airline, travel and exhibition industries, the U.S. rescinded a 17-month-old requirement that people arriving in the country by air test negative for Covid-19. Be patient: It will take time to reverse course and recover fully, but the numbers are ramping up quickly due to pent-up demand.
State of the economy. While the exhibition industry is benefiting from venue reopenings and improved travel policies, inflation, supply chain issues, rising fuel costs and the war in Ukraine are all impacting economic development for the global and North American markets. In fact, 15% of North American exhibition organizations report the state of the economy in the home market is the most important business issue in the exhibition industry, while 13% say it's global economic development. Leading publicly traded exhibition companies are also citing these confirms in their outlooks:
What has been your company's experience? Please share your best practices with the industry in the comments.
In line with UFI's objective to provide vital data and best practices to the entire exhibition industry, the full results can be downloaded at www.ufi.org/research. The next UFI Global Exhibition Barometer survey will be conducted in December 2022.