2019 has been a momentous year in our industry – and a very active year at UFI. I thought about how best to capture some of the year's highlights from our association's advocacy, education, events, and research. I ended up with this series of small blog posts – some short, personal comments alongside the work we did this year for you, our members.
We've already published Part 1 and Part 2. Here are my personal top three – I hope you enjoy them. Happy holidays, and have a successful 2020!
3. Our industry's Global Economic Impact
Miami (U.S.A.), March 2019 – It took a lot of number crunching, a good UFI database, and good partners (SISO and Oxford Economics) to produce – for the first time – a global methodology and framework for calculating and generating comprehensive data on the economic impact of exhibitions. Now we know that we are a 325 Billion USD industry… and a lot more as well. In March, we were able to present the headline figures for the first time at the SISO CEO Summit. Towards the end of the year, exhibition industry associations, that are UFI members, were first in using the framework to calculate the economic impact of their respective markets. So watch out for more truly "valuable" numbers in the year ahead.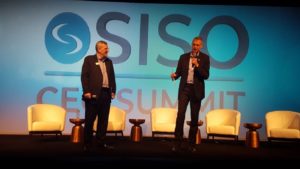 2. Madame President.
Bangkok (Thailand), November 2019 – One very special part of my job as the UFI CEO is having the opportunity every year to work for a different global leader from our industry when the UFI presidency changes hands. Each president has been a pleasure and a privilege to work with over the years. This November, Mary Larkin took the helm of our organisation, not just as the first-ever US president of UFI, but also as the first-ever woman president. In 2020, we will have regular elections for the UFI bodies, and I hope that the trend toward greater diversity that began in 2017 will pick up speed and continue. We are a global and diverse industry, and a diverse leadership will strengthen UFI even further as your global association.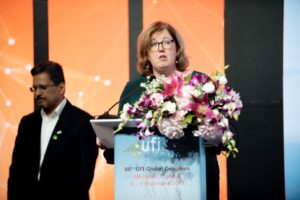 1. Planting a tree to commemorate the 50th anniversary of IMTEX.
Bangalore (India), January 2019 – In many ways, this was an extraordinary moment at the beginning of the year, and it remains my personal highlight of the year. The tree will grow, consume CO2, provide shade, and be a part of the venue it stands on for surely much longer than most of us will be active in the industry. That's sustainability in a straightforward and powerful way.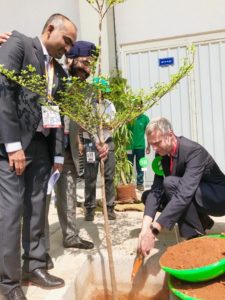 And the final honorary mention goes to…
The UFI team – You will never see the whole UFI team in one place, at least I haven't managed to yet. But this picture shows most of us — a great group of people, from all around the world (14 countries at the last count). We are a people industry, and these colleagues live that people spirit every day. I am grateful to be a part of this group.