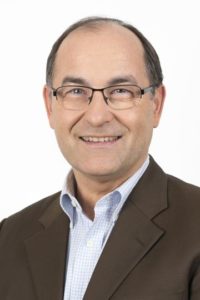 Christian Druart, Secretary of the UFI Sustainable Development Committee, talks about the sustainability in the exhibition industry, presenting the UFI Forum on Sustainable Development, taking place in Orlando, (USA), from 6 to 7 August 2018. 
Interview by Monika Fourneaux Ceskova
 This year's theme of the forum is "engagement, collaboration and measurement". How would you describe these three drivers?

As you know, sustainability isn't exactly a new topic in the event industry, however, if we are to take sustainable development to the next level in the exhibition industry, we need to focus on these three drivers: engagement, including securing commitment from top management; collaboration, with stakeholders working seamlessly together across the event value chain (the organiser and venue cooperating on this issue); and measurement  having the right data to ensure you're "in the know" – after all, what gets measured, gets done!
Why is the forum held in Orlando (USA) and who should attend?
As with other UFI events, this conference focuses on a different theme each time and travels from one place to the next – always with the goal of creating a platform for global knowledge exchange. It's open to all professionals from the event industry, not just UFI members.
Our last three forums on sustainability were held in Asia, where interest is growing not just in traditional environmental factors, but also in social and economic aspects. The US exhibition market has its own unique attributes, but our industry is global and many major players from each segment (organiser, venue, service provider) have global reach. The Sustainability conferences are an ideal opportunity for anyone interested in understanding the many facets of sustainability. Our Orlando programme (www.ufi.org/orlando2018)  takes place just before the SISO Leadership Conference. Current registrations include people from all over the world: the USA, China, Colombia, France, Germany, Mexico, Sweden, Switzerland, the Netherlands and the UK.
Who are the selected speakers, what are their sustainability initiatives and achievements?
The speakers will tackle the three drivers I mentioned before, presenting their initiatives and best practices, and discussing it all with the audience. Along with UBM, INFORMA is clearly a leader among international organisers, thanks to its strong corporate approach to sustainability. Amsterdam RAI, as a venue, along with IMEX and Greenbuild, as events, are impressive examples of how stakeholders are successfully engaged across the value chain of events. When it comes to standards, measurement and reporting, there's a need to clarify the status of existing frameworks and tools, so we'll be discussing initiatives from the US, France and Mexico, as well as some global ones, such as the Green Venue report, ISO, and GRI.
How do you see sustainability developing over time? Which country or region is most up to date with sustainability in the event industry?
To be honest, I think overall development is rather slow, but this applies to many industries. There are many reasons for this: other short-term priorities, lack of dedicated resources, uncertainty about where to start, how to avoid "greenwashing", and so on. But our annual award scheme, launched in 2012 (www.ufi.org/sdaward), has shown that many companies all over the world have  successfullly implemented sustainability initiatives. Each local environment is different and there's no single ranking that "fits all". Either you commit and progress or you stay out of it and wait until pressure from your stakeholders forces you to act…quickly!