"A business practice that is economically viable, socially responsible and environmentally friendly is usually regarded as being sustainable. Corporations that include socially responsible and environmentally sound policies as core elements in their growth strategy very often create sustainable economic values," according to the University of North Florida Center for Sustainable Business Practices.
In the business world, sustainability is viewed as a system where a business organization communicates its:
Economic (profit) performance
Environmental (planet) performance
Social (people) performance
The goal in developing sustainable business practices is to create strategies that preserve the long-term viability of People, Planet and Profit. Sustainability requires that we see the world as an integrated system that connects businesses to both society and the environment. As you can see, it's far more than just being green!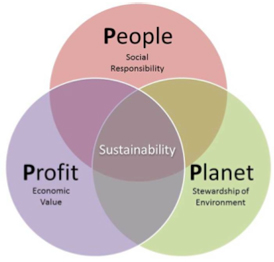 UBM Brazil is the first company in its country to receive the Great Place to Work 2018 certificate. Judged by a third party, UBM Brazil CEO Jean-François Quentin said, "To receive this certificate encourages us to emphasize the continue enforcing the practices valued by our staff and, above all, the continuous identification and implementation of improvements and innovations to make our daily lives better and better."
For the exhibition industry, top factors in implementing sustainability are engagement, collaboration and measurement. In fact, that's the theme of this year's UFI Educational Forum on Sustainable Development taking place for the first time in the United States, this August 6-7 in Orlando, Florida.
National and international experts in sustainability will gather together to share best practices, knowledge and case studies. The forum is open to all members of the industry who share the passion for helping exhibitions and all stakeholders – organizers, exhibitors, visitors, venues and suppliers make trade shows and events more sustainable.