Dear colleagues, dear friends,
A few weeks ago, our industry took the stage at COP26, at the Global Climate Summit. I had the honour to take part in the presentation and launch of the "Net Zero Carbon Events Pledge". Unfortunately, I could not travel to be in Glasgow in person and had to give my comments remotely from Hong Kong, even though I personally felt the importance of this moment.
Think about it – a group of leaders from our industry: organisers, venues, suppliers. From all around the world. Representing exhibitions, conferences, corporate and e-sports events. Big corporates and small entrepreneurs. On the global stage, in dialogue with the United Nations about the biggest challenge we face – climate change. Being heard. Having a say.
Often, we find ourselves in conversation about the number of visitors and hotel nights. For years, we had wanted to get "a seat at the table", to add our voice to conversations about business opportunities, intellectual power and insights that our events can bring to a destination.
Now – here we are.  As a global industry, we can even make a difference in the global issue of climate change. This is solid testament to tireless work done by many across our sector, to re-define what exhibitions and business events represent, and what our role as an industry is.
When I spoke to all of you in Rotterdam, I said that I will focus on driving collaboration with others across our industry where it matters. The "Joint Meetings Industry Council" (JMIC) is one. UFI Managing Director/CEO Kai Hattendorf has been chairing this global umbrella organisation that brings together the leading industry associations for the past two years, and he will stay on the board for the next term as well. Kai has reported here and elsewhere repeatedly about JMIC's important achievements.  One of the most crucial is of course the "Net Zero Carbon Events" project. I wish to personally thank Kai and all the members of the UFI team who have been involved in this to ensure the pledge is ready on time!
Glasgow showed what we can achieve as an industry when we work together, and the active role UFI can play. Having been "there" also gives me confidence that we will be able to follow up on the pledge – to encourage even more UFI members and other businesses to sign up, and, more importantly, to turn the pledge into action NOW.
Let this be my wish for our industry for the new year 2022! And let me wish all of you health, happiness, and success!
Best Regards,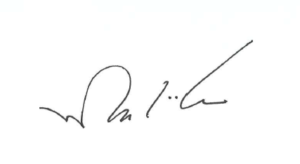 Monica Lee-Müller, UFI President