I first met Julius Solaris, Boldpush, a consultancy and research company years ago on Twitter (now X). A few years later we met in person at an IMEX America in Las Vegas prior to both living in that city. At that time, he owned and ran Event Manager Blog, which included a private LinkedIn Group with over 350,000 members from around the world, where members interacted in multiple languages. (Yes, over 350,000 members!)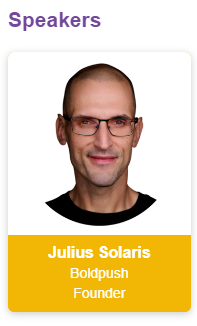 Eventually he sold EMB to Skift and worked with some tech companies, including Swapcard and Hopin before launching Boldpush.
Named the most influential individual in the event industry over the last decade, Julius is passionate about face-to-face events and the use of digital technology to enhance the medium. This includes utilizing online events – asynchronously.
He'll be sharing, "How I See It" on November 2nd, at 3:20pm during the UFI Congress. Julius recommended delegates for the UFI Global Congress, "Plan to delve into a deeper level of content, meet others, seek new specific new experiences and conversations. Take advantage of this unique time to learn more – and strategically consider what your follow-up post-Congress will be."
In other words, don't spend all your time with those delegates and sponsors you already know. Find new people to connect with and create relationships. Explore new technologies and have conversations with those suppliers. Take advantage of the fact there will be people at the UFI Global Congress from over 50 countries. Acquire knowledge. Build community.
During his short time on stage, Julius plans to challenge the global exhibition industry to look at its future and what that means. Along the theme of "going beyond," he said, "Make a plan about how you plan to change, be intentional with your time at the Congress, and go outside your comfort zone!"
There's still time to sign up for the UFI Congress by clicking here. Join us!