Location:
ARIA Resort & Casino
Ground Transportation and F-1 Traffic:
Preparations are well underway for the first F-1 race in Las Vegas which takes place on The Strip (Las Vegas Blvd.) and adjacent roads. Grandstands are being positioned, roads on the route have construction, and traffic is impacted. Because it's the first of at least 10 years of F-1, adjustments on the roads and freeways are constant.
SEMA, the aftermarket car show (trade) is in town the same week at the Las Vegas Convention Center with 175,000 attendees and over 2500 exhibiting companies (and personnel). That will also create congestion and makes reservations a 'should have' around city restaurants.
Take a taxi from the airport (LAS, Harry Reid Airport, formerly named McCarren Airport). I know it's counter-intuitive, but it's far cheaper than Uber and way faster. They are priced by zones to the hotels and Uber (or Lyft) have surge pricing most of the time from the airport.
On an average day, it should take about 20 minutes from the airport to the ARIA Resort & Casino.
When you leave the UFI Global Congress, or are going around the city, take Uber or Lyft. It's cheaper and more convenient.
Tipping/Gratuities: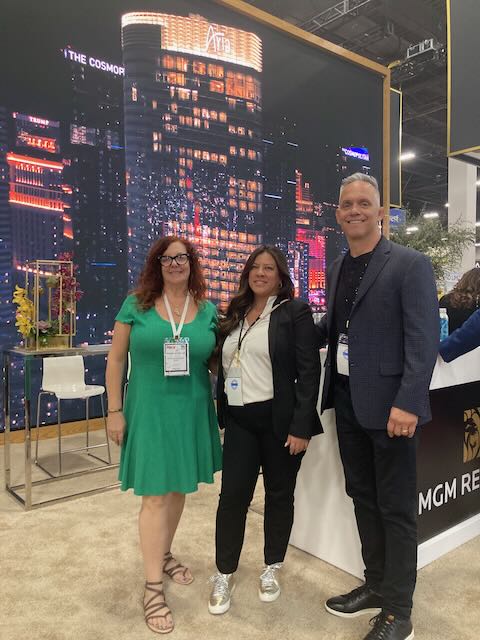 Please do, in cash if you can, though it's ok to add it to your credit card. Hospitality servers and bartenders are (generally) paid lower wages therefore they depend on tips. It usually results in superior customer service. (Most of the time, anyway!) I always get asked by friends from overseas how much to tip, so consider these as a base rule.
Food for a full-service meal: 15-20%. 25% if exceptional.
If your party is 6 or more people, gratuity may be automatically added.
For rounds of drinks, 10% is fine, but use your best judgement. Sometimes $1-2 per drink is ok.
The Weather!
It's going to be sunny and perhaps a bit warmer than you are used to during the day. 22-24c/71-76f. Evenings cool down (8-10c/47-51f) the minute the sun sets. Suggest bringing sunscreen and hats for daytime and the activities on Saturday, Nov. 4th.
Ask your hotel about providing a humidifier for your room. It's very dry here and your voice will thank you…along with the rest of your body! It ranges from 8-25% humidity during
October/November.
Stay Hydrated.
Please remember to drink lots of water.
Ice cubes count as water, btw.
ID May Be Required.
If you have a show or concert tickets, plan to show your ID to prove your age. It's State Law when alcohol is being served. Clubs around town may or may not require ID to enter. However, one good bit of news – at a recent industry party, Drai's was not asking for ID when party-goers entered the club.
Artists, DJ's, Bands and Shows in Town:
There are a lot of options, at many price points. Here is a partial list. You may find most of these available on Ticketmaster.com, AXS.com, and through the venues where they are playing. You may also contact our concierge, Travis Turner and Luxe Lifestyle cs@luxelifestylehq.com or by phone at +1 702-570-0580. Please allow at least 24 hours for bookings (and they will be on site at the Congress).
Adele: Caesar's Palace
Billy Idol: REVIV at the Cosmopolitan
Doja Cat: T-Mobile
Earth, Wind and Fire: The Venetian
Katy Perry: Resorts World
Keith Urban: Bakkt Theater, Planet Hollywood
Kylie Minogue: Voltaire at the Venetian Hotel
Loverboy: The Pearl Theater, Palms Resort
Rob Zombie and Alice Cooper: Bakkt Theater, Planet Hollywood
Santana: The House of Blues, Mandalay Bay
SZA: T-Mobile Arena
U2: The Sphere
Usher: Dolby Live, Park MGM Hotel
Tiesto: Zouk Nightclub, Resorts World
Wayne Newton: The Flamingo Hotel
Other cool entertainment options:
Area 15 – visit Omega Mart (explore secret passageways from the store) and Lost Spirits while there (separate entry fees), SEMAFest, Nov 5-6, Las Vegas Fairgrounds (many bands and car activations), Cirque de Soleil (there are plenty of shows to choose from), Absinthe (a naughty, adult variety show), Penn & Teller (yes, they are still around), Fremont Street, the Container Park, and the Arts District.


If you have any questions, please feel free

to DM me

.
Otherwise, safe travels and see you soon!